BALBOA SWING CLUB FUNDRAISER
For Giedre & Camille to attend Bal-Love Masterclasses
We want to raise a fund to take the Balboa Swing Club to the next level !
You can donnate HERE
The goal is for us, Giedre and Camille, to be able to travel to the Czech Republic to study Balboa with the best international dance instructors and bring that experience back to our local community and classes in Berlin.
We want to focus on studying this dance extensively : its history, music, rhythms, physicality, steps and partnerships. Therefore, we are preparing to attend Bal-Love - an international festival that is known to be the best learning platform at this point in Europe. And we are happy to announce that Camille's registration has been confirmed for Bal-Love WEEK 2 this August, and Giedre is on the waiting list for WEEK 1 !
Balboa and Swing Dance is our biggest passion, and although we are making a living teaching dance, attending these masterclasses is financially challenging for us. We would love to go but can only do this with your help.
By donating to this fundraiser you will :
Make our dream come true !
Support our learning process and subsequently your learning process too!
Help to bring more knowledge and authenticity to the Balboa scene in Berlin.
support your Wednesday Balboa classes and parties !
For your generosity we are offering:
We will bring back pockets full of new teaching ideas, moves, rhythms, grooves and dance experiences. You will get higher level classes, more refined expertise in your dancing, more authentic dancing and even crazier parties !
Option 1 : €5 to €19
An Orange Tote Bag with Balboa Swing Club print (hand printed by us)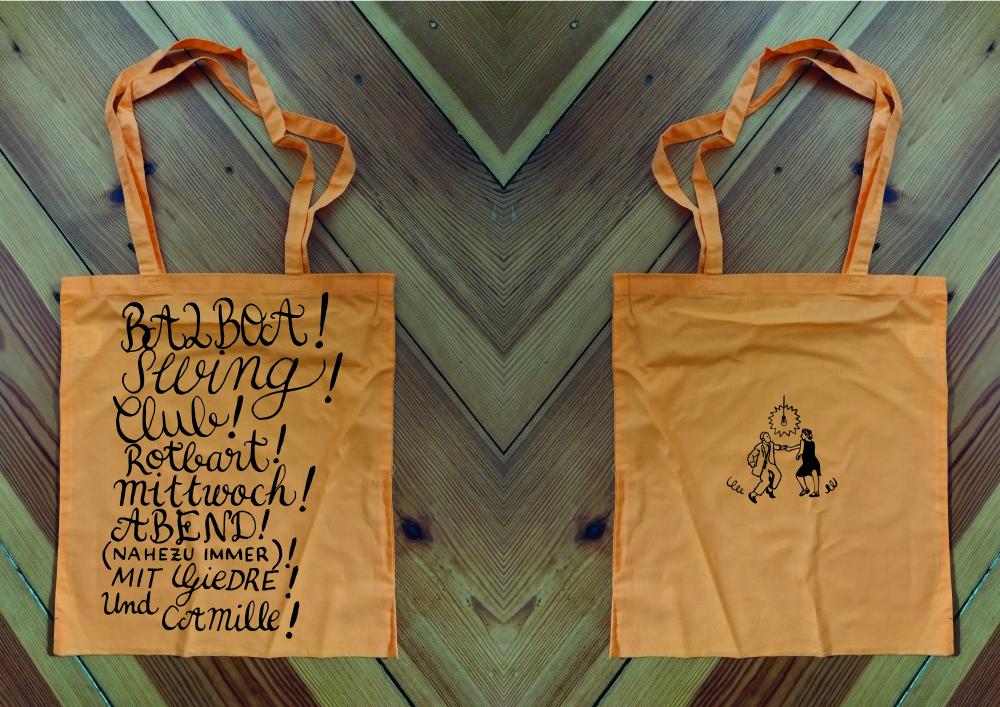 Option 2 : €20 to €39
One print on 2 T-shirts of your own ! (chosen by you, hand printed by us)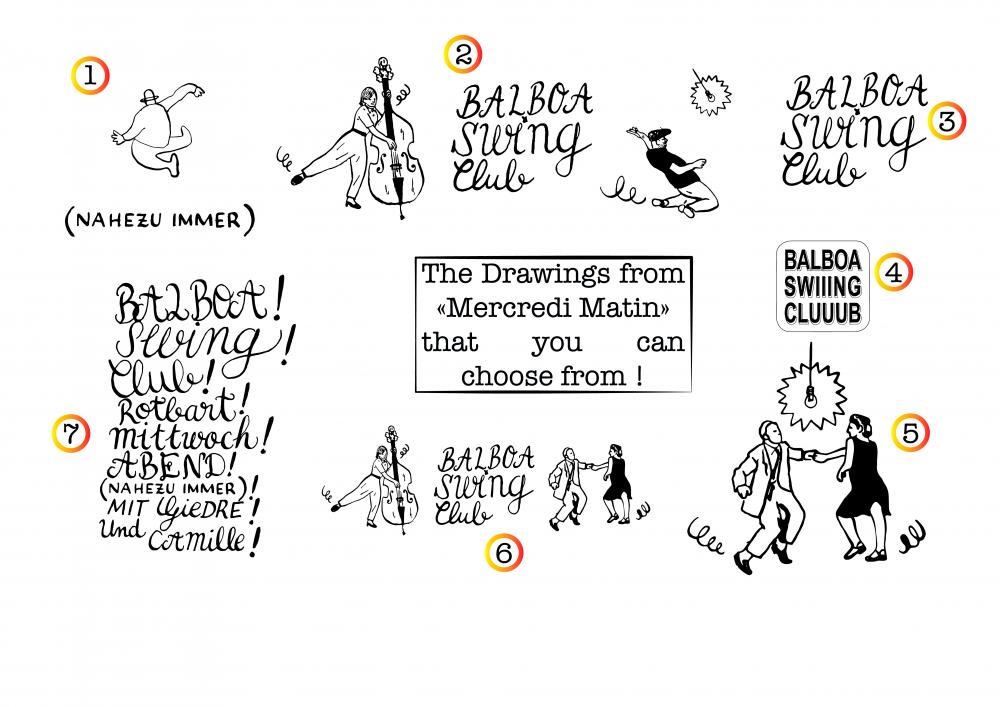 Option 3 : €40 to infinity (!)
2 prints of 2 images on 2 T-shirts of your own ! (chosen by you, hand printed by us)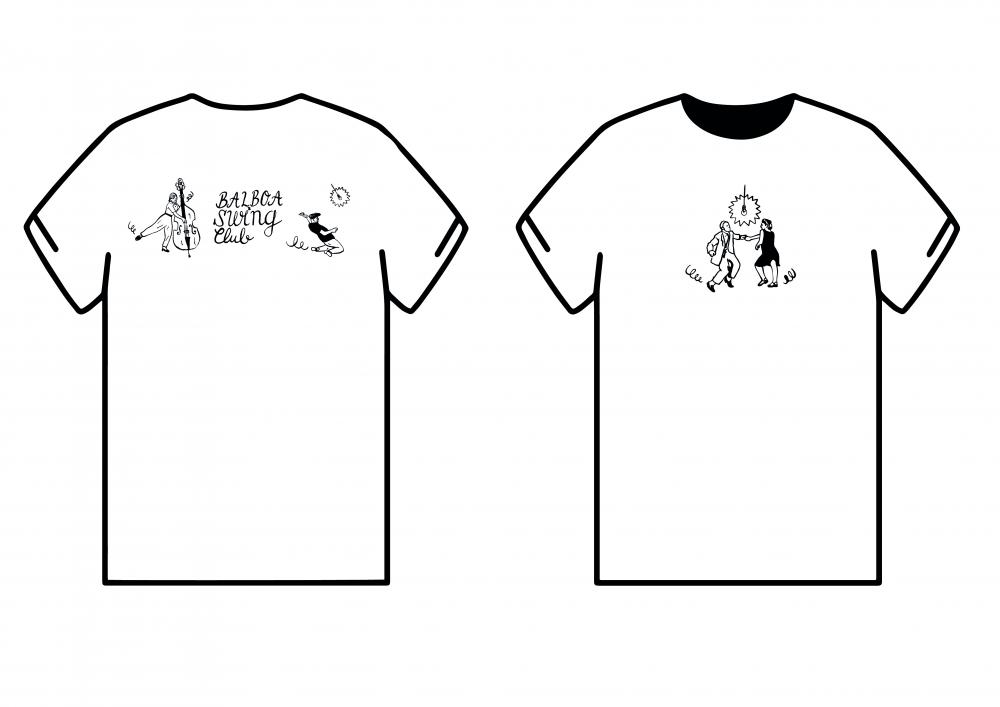 (T-shirt exemples)
We will collect your T-shirts (or any fabrics you want to be printed) on Wednesdays May 3, 10, 17, 24, 31 and June 7 at Rotbart !
What is that "Studio Workshop with Live Music" all about:
One the 27th May we want to open the door of our dance studio in Britz, where we create and practice !
The studio allows us to dance barefoot or with socks, wool-socks, which is great to learn and train our connection to the floor. Bare feet are much more sensitive and precise, which will give us a lot of new tools for our couple dancing, opening up finesse and new sensations.
We will have Eldar Tsalikov on Bass, Johannes Böhmer on trumpet and Paul Stantner on guitar playing live and improvising with us. This will give us the unique opportunity to experience sound, rhythm and to play with tempo, accents or emotions.
Program of the day:
13:00 - 13:45 extensive body awareness feet/ground connection
14:00 - 14:45 improvisation dancing
15:00 - 15:45 couple dancing
16:00 - Lunch and fun, food cooked by Giedre & Camille
16:45 - Social dancing
17:30 - End
Place : Jahnstraße 87-89, 12347 Berlin
What we will pay with your money :
"Mercredi Matin", the artist behind the T-shirt's designs, 300 euro.
T-shirts : Buying Screens 56,98 euro, prepping them 105 euro. + paint colors 92 euro.
Costs of Ballove Week ( classes + accommodation + travel by train ) 920 euro pro person. 1840 euro total.
Costs Workshop (Location rent for the 27 th May 50 euro / Pay musicians 300 euro + food 100 euro ).
Private classes for Camille & Giedre with our favorite dance instructors (so we can tell you all their secrets :P) 200 euro.